Who we are. Where we're going.
With a footprint stretching across the Midwest and covering the Great Plains, Inland is a major industry presence. With 40 locations, our current crew is over seven-hundred strong – and we're on the road to making it even stronger.
Own your future. Stake your claim.
Inland is 100% employee owned, which means every employee has a piece of the pie. If you like to be engaged in your work, take challenges head-on, and control your own success, then Inland can be your opportunity of a lifetime.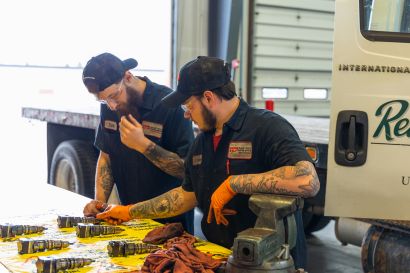 Our independence. Your freedom.
Until Inland, independent shops survived in the shadows of large truck affiliations. We showed the way not just by being different, but by making a difference. It's a simple, powerful formula for success. You'll feel confident and proud to be part of a team that encourages core values of respect, honesty, and integrity. At Inland, you'll be free to be your best.
Welcome to the family.
Technicians at Inland are among the best in the industry.  A wide range of benefits make Inland a great place to build your career.
Family-like atmosphere – You are not just a number. Team members are hardworking, helpful, and friendly. Professionalism and friendships can be experienced throughout all of Inland.
Training – From the latest diagnostic software to specialized tools, we invest in what you need to succeed.  Our stand-alone training center offers programs to shape your personal development and strengthen your work techniques.
Benefits – Paid Training; Paid Uniforms; Paid Time Off; PPO- Medical, Dental, Rx; Life/ADD; Flexible Spending Account; 401K; ESOP (employee stock ownership plan); and Vision.
Clean, safe environment – Well ventilated, well-lit, state-of-the-art facilities and shop equipment.
Reputation – With over 75 years in the industry, we're known for our stellar internal and external customer service.  We are the premier independent service provider in heavy duty.